World-Wind-Atlas: 60+ years wind data

The World-Wind-Atlas offers fast access to wind data of the last 60 years. This global wind data set is used for planning purposes by manufacturer, engineers, consultants or financing companies in the wind industry.

Since 2002, the World-Wind-Atlas is used by companies in more than 30 countries around the World.

The World-Wind-Atlas is still the best choice, whenever investments shall be placed on the most longest historic wind data available today.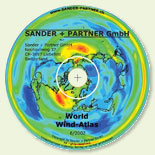 Buy the World-Wind-Atlas on CD. Or LOGIN for instantaneous access.