World-Wind-Atlas: Unique Features
The World-Wind-Atlas is based on the NCAR/NCEP global re-analysis. SANDER + PARTNER has added some unique features.
The original data of NCAR/NCEP are available on what are called "pressure levels". For example: wind speed is given at 1000 mbar, 900 mbar, 850mbar etc. For practical applications, this has
severe consequences
:
in mountain areas 1000 mbar, 900 mbar or 850 mbar may fall below topography.
the height of a pressure level changes in time.
For industrial applications, we have improved the original wind data of NCAR/NCEP.
The wind data of the World-Wind-Atlas has unique features:
wind data are available at 50m and 500m above topography,
these heights are fixed and will never change.
This is why clients report, since using the World-Wind-Atlas for long-term reference, their results show better correlation with met-mast measurements.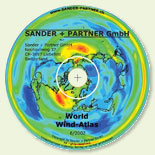 Buy the World-Wind-Atlas on CD. Or login for instantaneous access.